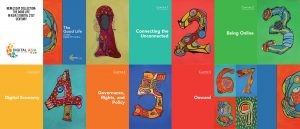 About this Essay Collection
The essay collection is available for download: 
The Internet with its three billion users – and digital technology more broadly – have fundamentally changed the ways in which we as individuals communicate and collaborate with each other, how entrepreneurs and businesses operate and innovate, how young people express themselves and engage with the world's knowledge, and how governments interact with their citizens. As we begin the 21st century, the digital ecosystem continues to change and evolve globally, regionally, and locally, as more and more people around the world become connected, next generation technologies and business models emerge, and the lines between the online and offline increasingly blur.
In many respects, Asia is at the forefront of the next wave of digital transformations, whether we look at the massive growth in connectivity, innovative use of digital technologies to build smart cities and infrastructures, or Asia's cultural diversity as we reimagine and rebuild the future of education, commerce, or healthcare. With the imaginative power that comes from the wealth of diverse people and cultures, Asia is expected to significantly shape the future direction of digital technology and the evolution of society over the decades to come, not only regionally but also globally in today's interconnected world.
Against this backdrop and in order to inform decision-makers in the private and public sector about these transformations, a diverse group of academic, civil society, and private sector partners from Asia and beyond have come together to launch the Digital Asia Hub as an independent, non-profit Internet and Society research think tank based in Hong Kong (www.digitalasiahub.org). Initially incubated by the Berkman Center for Internet & Society at Harvard University with its regional partners, the Digital Asia Hub will serve as a nonpartisan, open, and collaborative platform for research, knowledge sharing, and capacity building related to Internet and society issues with a focus on digital Asia. The Hub, led by an Executive Director, Management Board, and Steering Committee, also aims to strengthen effective multistakeholder discourse, with both local and regional activities, and will contribute to – and itself serve as a node of – a larger network of academic organizations: the Global Network of Internet & Society Centers (www.networkofcenters.net).
The essays collected in this book are intended as an initial contribution by an emerging and open interdisciplinary research network consisting of students, researchers, entrepreneurs, and many other collaborators who share a deep interest in digital technologies and their role in improving life in Asia's digital 21st century. Based on an open call for participation and to celebrate the launch of the Digital Asia Hub, this book brings together a series of reflection pieces written for a broader audience in form of short essays that address some of the key research topics the Hub may explore in the future, including digital rights, governance and infrastructure, innovation, open manufacturing, digital trade, trending technologies and technology spaces, mobile technology and ts impact on access, education, entrepreneurship, and the use of ICT for development and civic engagement.
The selected essays – written by twenty-six researchers (including student authors) and other stakeholders from across Asia – offer kaleidoscopic reflections on the guiding topic "The Digital Good Life in Asia's 21st Century," and are grouped into five broad chapters: "Connecting the Unconnected," "Being Online," "Digital Economy," "Governance, Rights, and Policy," and future perspectives ("Onward"). The contributions in this book reflect the diversity of insights, ideas, and perspectives that we hope will form the core and spirit of the Digital Asia Hub. Some of the reflection pieces are closely connected to the research topics of the Digital Asia Hub, others reflect more generally on personal observations and opinions, or highlight and discuss insights and learning from specific case studies or concrete projects.
By making these reflection pieces available as we celebrate the launch of the Digital Asia Hub research network, we hope to stimulate independent and interdisciplinary research exploring both the opportunities and challenges related to digital technology, innovation, and society in Asia. Additionally, we hope to work towards a robust community that shares a deep interest in and commitment to Internet and society research as the Digital Asia Hub seeks to engage in and support cross-cultural, sectoral, and interdisciplinary dialogues and collaborations.
The Digital Asia Hub is pleased to announce the three winners of the student writing competition, held as part of our call for essays for "The Good Life in Asia's Digital 21st Century." We received many excellent submission from students, and from those contributions selected the top three.