Digital Asia Hub was an industry partner for the event organised by Hong Kong's Cyberport on 28 July, 2015.
Event description:
The Internet and the World Wide Web fundamentally transformed global business by making it better, faster and cheaper to efficiently conduct online communication anytime and anywhere.  Companies that developed a coherent 'Internet Strategy' leveraged the commercial opportunities created and successfully navigated game changing challenges. 'Internet Companies and Businesses' thrived.
Now the Blockchain innovation is here, and its ecosystem is tracking the rate of money invested during the early Internet years! Come and understand the impact of how USD1.1 billion in blockchain technology investments is transforming global business to be even more efficient and effective. Once again, see why you must now pay attention to develop a 'Blockchain Strategy' to radically transform your business to survive, and thrive. Learn how some amazing blockchain start-ups are making business ready for blockchain and why blockchain is now ready for business!
Read more about the programme and speakers, here.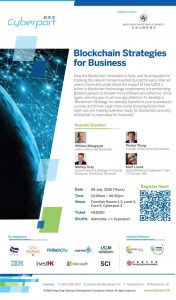 About Cyberport
Cyberport is a creative digital cluster with over 700 community members. It is managed by Hong Kong Cyberport Management Company Limited which is wholly owned by the Hong Kong SAR Government. With a vision to build a legacy of entrepreneurial excellence that establishes Cyberport as a leading global innovation and technology hub, Cyberport is committed to facilitating the local economy by nurturing digital industry start-ups and entrepreneurs, driving collaboration to pool resources and create business opportunities, and accelerating digital adoption through strategic initiatives and partnerships. Equipped with an array of state-of-the-art tech facilities and a cutting-edge broadband network, the Cyberport community is home to four grade-A intelligent office buildings, a five-star design hotel, and a retail entertainment complex.
If you are interested in collaborating with Digital Asia Hub to host an event, or inviting its Executive Director as a speaker, please email Julianne Chan(jchan@digitalasiahub.org). 

Latest posts by DAH Staff
(see all)