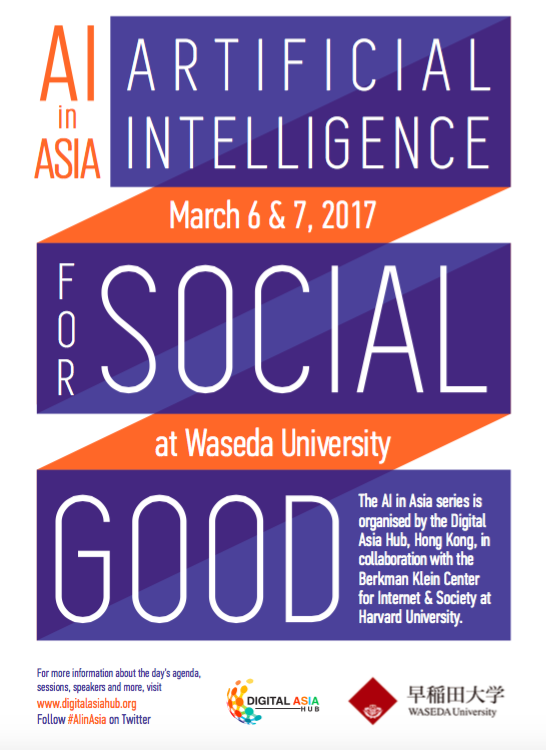 AGENDA
6TH MARCH 2017: PUBLIC CONFERENCE
9:15 am  Registration commences
Chair: Toshie Takahashi, Professor of Waseda University, Local Organiser
9:45 am  Welcome remarks
Malavika Jayaram, Executive Director, Digital Asia Hub
Prof. Kazuaki Ueno, Director, Research Institute for Letters, Arts and Sciences, Waseda University
10:00 am Opening Keynote:
Dr. Yutaka Matsuo, University of Tokyo 
10:30 am Session 1: AI for Social Good: Histories, Journeys and Futures
Chair: Prof. Alan Winfield, Bristol Robotics Laboratory & Science, Communication Unit, UK
1. Prof. Bettina Berendt
University of Leuven, Belgium
2. Shinji Nishimoto
CiNet, NICT, Japan
3. Naomi Inoue
R & D Manager, KDDI Research, Inc.
4. Danit Gal
Technology Policy
Tencent & Peking University
11:30 am Session 2: AI, Governance and Government

Chair: Prof. Tatsuya Kurosaka, Project Assistant Professor at
Keio University Graduate School of Media and Governance
1. Ryan Budish
Berkman Klein Center for Internet and Society at Harvard University, USA
2. Dr. Masaki Fukuda
Director of the Policy Research Department, Japan's Ministry of Internal Affairs and Communications Institute for Information and Communications Policy
3. Michael Veale
Department of Science, Technology, Engineering and Public Policy, University College London
4. Prof. Norio Murakami
Representative Director of Norio Murakami Office
12:45 pm LUNCH
1:45 pm Session 3: AI, Health and Biomedical Ethics
Chair: Julian Thomas, Director, Social Change Research Platform,
Professor of Media and Communications, RMIT University, Melbourne
1. Katherine Chou & Lily Peng
Machine Learning team
Google, Mountain View, California
2. Dr Satchit Balsari
MD, MPH, Assistant Professor; Chief, Weill Cornell Global Emergency Medicine Division & Fellow, Harvard FXB Center for Health and Human Rights, Harvard University
3. Dr. Brent Mittelstadt
Ethics of Biomedical Big Data Project
Oxford Internet Institute, University of Oxford
4. Prof. Yoshihiro Ohta
Project Professor of the University of Tokyo Graduate School of Mathematical Sciences
3:00 pm The Societal and Economic Impact of AI
Christopher Clague
The Economist Intelligence Unit, Tokyo
3:20 pm Lightning Demos of Case Studies
       Mitsuhisa Ohta
       BrainPad Inc.

3:40 pm Coffee Break
4:00 pm Provocation
Dr. Nishant Shah
Dean, Artez University of the Arts, Netherlands & Center for Digital Cultures, Leuphana University, Germany
4:15 pm Session 4: AI, Labour, Creativity and Authorship

Chair: Prof. Dr. Herbert Burkert, President, Research Center for Information Law,
University of St. Gallen, Switzerland
1.  Dr. Winifred R. Poster
International Studies/International Affairs Program
Washington University, St. Louis, USA
2. Dr. Andres Guadamuz
Senior Lecturer in Intellectual Property Law
University of Sussex, UK
3. Eisaku Maeda
Vice President, Head of NTT Communication Science Laboratories
4. Prof.Hiroshi Ishiguro
Department of Systems Innovation
Osaka University
5:30 pm Closing Keynote: "Toward 2020 and beyond"
Hiroki Kuriyama
Member of the Board, Senior Vice President of Strategic Business Development, and
Head of 2020 Project, NTT
6:00 pm Wrap up & short break before reception
6:30 pm Reception
Featuring special guest artist: Yoichiro Kawaguchi, University of Tokyo
7 MARCH 2017
9:30 am Registration
Chair: Malavika Jayaram, Executive Director, Digital Asia Hub, AI in Asia Series Organiser
10:00 am Keynote
Susumu Hirano
Dean, Graduate School of Policy Studies; Professor, Faculty of Policy Studies, Chuo University
10:30 am Session 5: An Agenda for 2020 and Beyond
Co-chairs: Malavika Jayaram & Nishant Shah
1. Prof. Satoshi Kurihara
Professor of the University of Electro-Communications Graduate School
2. Masahiro Fujita
VP, Head of Technology Strategy Department, System Research Development Group, R&D PF, Chief Technology Engineer, Mid-to- Long Business Development Division, New Business PF, Sony Corporation
3. Celina Beatriz
Instituto de Tecnologia e Sociedade do Rio de Janeiro (ITS)
Rio de Janeiro, Brazil
4. Kentaro Torisawa
Director General, Data-driven Intelligent System Research Center (DIRECT), Universal Communication Research Institute (UCRI), NICT
11:40 am Interactive Exercise on Next Steps for the Academic Community (with the IEEE Ethically Aligned Design document as a provocation)
Led by:
1. Prof. Alan Winfield
Bristol Robotics Laboratory & Science Communication Unit, UK
2. Amy Johnson
History, Anthropology, and Science, Technology, and Society
(HASTS) program, MIT, USA
1:00 pm Wrap up
The Tokyo event is held in collaboration with the Research Institute for Letters, Arts and Sciences at Waseda University, the Ministry of Internal Affairs and Communications, the National Institute of Information and Communications Technology (NICT), NTT, KDDI Research, Inc., The Japan Society of Information and Communication Research, other local partners in Japan, and the IEEE Global Initiative for Ethical Considerations in Artificial Intelligence and Autonomous Systems. We are grateful for event support from these institutions, and series support from Google APAC.
About the Digital Asia Hub
The Digital Asia Hub is an independent, non-profit Internet and society research think tank based in Hong Kong. Incubated by the Berkman Klein Center for Internet and Society at Harvard University and a diverse group of academic, civil society, and private sector partners, the Hub provides a non-partisan, open, and collaborative platform for research, knowledge sharing and capacity building related to Internet and Society issues with focus on digital Asia. The Hub also aims to strengthen effective multi-stakeholder discourse, with both local and regional activities, and will contribute to – and itself serve as a node of – a larger network of academic organizations: the Global Network of Internet & Society Centers (the "NoC").

Latest posts by DAH Staff
(see all)