The Taiwanese civic tech community g0v held their 'g0v hackath22n' on December 17, a bimonthly event where citizens propose and present projects aimed at promoting civic participation and government transparency. "G0v is a vibrant community where you can actually meet new people and work on projects offline," g0v co-founder Chia-liang Kao said. Participants' projects ranged from apps that parse government PDFs so that citizens might better know when a law affects them, to ambitious Line app bots, aimed at identifying and weeding out false rumors.
Among the notable demonstrations was g0v News, a recently launched news platform for Chinese/English bilingual civic tech news across Asia. "Everyone is eager for an exchange of ideas," said Wu Min Hsuan (ttcat), deputy CEO of Taiwan's Open Culture Foundation, but cited language barriers and limited news outlets as obstacles to promoting citizen civic initiatives. "The big issue is everyone goes to these [open government] conferences, but everyone loses contact when the conference is over," Aaron Wytze, reporter for g0vnews said. With the motto "connecting the world of/with civic tech," G0v news will publish "news updates, case studies, weekly digests, and interviews with the civic tech community." Ttcat hopes to use the platform for civic tech storytelling "to emphasize the impact of civic tech and to tell government and people what these projects can do."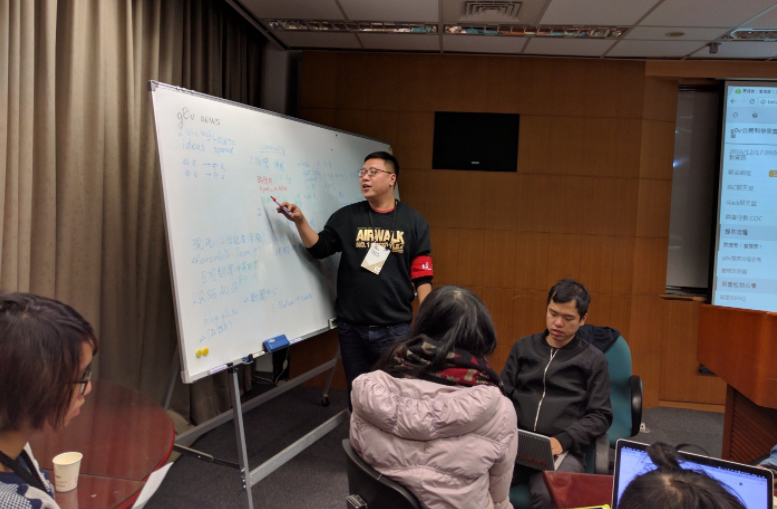 ttcat presents g0v news, a new website for Chinese/English bilingual civic tech news.
"Basically we want more connection with Taiwan and the rest of the world," added MG Lee, who also presented on her project to better understand what people think of 'open government." "It's so hard to have a one sentence definition [of open government]," MG said, given that people may be referring to any number of transparency initiatives. "We think Taiwan has done a great job in civic tech and open data so we want to do a qualitative and quantitative study," ultimately with the goal of "opening a conversation to see what people think of open government."
The g0v hackathon attracted international participants as well. Fa-ti Fan, a history of science professor at Binghamton University, joined as part of his Fulbright research into citizen science. During his presentation, Fan commended g0v's transparency work, highlighting the importance of a dignified polity where there's "equal communication between state and citizens, so the state doesn't use people as a means to an end."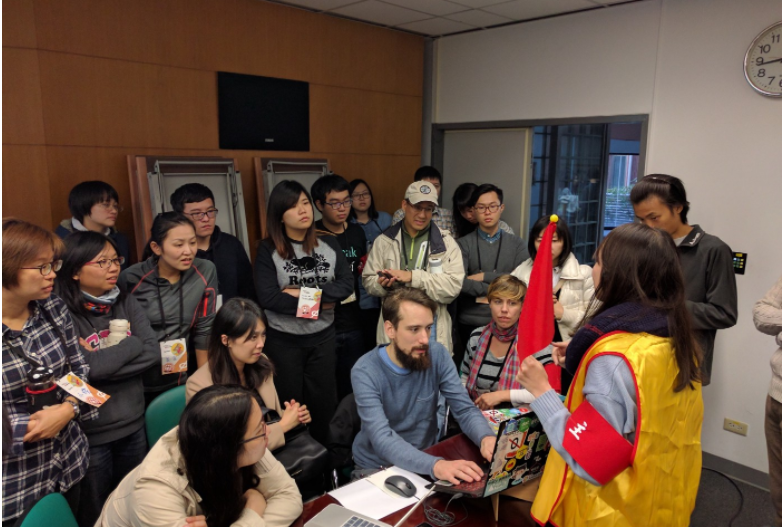 Nina Breznik and Alexander Praetorius present their project, WizardAmigos at g0v hackath22n.
Inspired by a YouTube video of Audrey Tang, Taiwan's Digital Minister and g0v contributor, Nina Breznik and Alexander Praetorius came all the way from Berlin to present on their project, 'WizardAmigos'. "We were watching YouTube and stumbled upon Audrey and thought 'that sounds perfect,'" Praetorius said. WizardAmigos is an online platform to teach Javascript programming to beginners. Eager to contribute to the local community while visiting Taiwan, Breznik and Praetorius spent six weeks in Taipei, setting up free programming lessons. "Most people can't afford for weeks of boot camps," Breznik said, [but] with the right tools, they can become civil hackers & entrepreneurs."
Although a 'hackathon', coders represent only 35–40% of g0v's participants, Kao estimates, and many join and contribute without any programming experience. G0v's community ethos draws not only programmers, but also journalists, NGO workers, and designers. "G0v's model is very much based on everyone is equal. This is a very cool community to work with," Wytze said. MG Lee agrees: "it's so nice to see a group of my generation want to build things [with] not just activism, but also the power to collaborate."
Videos from the event can be found on g0v's YouTube page.
This was written exclusively for Digital Asia Hub. For permission to republish or for interviews with the author please contact Dev Lewis.

Latest posts by Dan Bateyko
(see all)