Digital Asia Hub formally launched the Platform Futures Expert Network initiative with a members-only meeting (online) on February 3, 2021. The meeting notes below capture some of the highlights of the discussion with all comments from members anonymized in keeping with the Chatham House rule.
Platform Futures

The meeting started with a round of introductions as always, to help the network members get to know each other better. The group comprises a set of people – both from academia and civil society organisations, working on diverse issues within the broader areas of technology and society studies and digital rights and freedoms that we all have in common.
Among other things, members of this network focus on issues relating to digital infrastructures, the social and cultural impact of platformization, digital inclusion, the intersection of gender and sexuality and technology, the impact that technology has on marginalised societies, mobile ecosystems, misinformation and political communication, platformization of hate speech and online violence, censorship and content moderation on platforms, data (personal, non-personal and big data), automation and algorithms.
Metaphors for Platforms
During the course of introductions, members were also asked to suggest metaphors that would help us understand and describe platforms better. Malavika started the discussion off by suggesting that platforms are comparable to plant and root structures, and others followed with their own metaphors captured in the word cloud (below).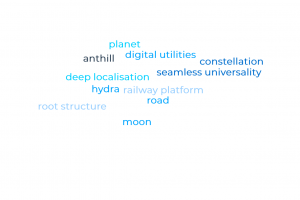 This exercise generated some provocative and useful ideas to base our work on going forward. Discussions between members through the course of this exercise also underlined the importance of taking on board the different perspectives each member brings to the table, the issues they are currently tackling in their own research and work, and how a network can help amplify and cross-pollinate ideas.
In one instance, members cited the challenges of describing the nature platforms adequately while engaging in grassroots work such as surveys. These members suggested that their takeaway from their experiences was that naming the actual platforms being discussed was the most direct way to get the message across. This also raised about the promise of universality that platforms bring with them as opposed to the localised impact they often have in reality. and the idea of platforms as a 'meta medium'. Can platforms be considered digital utilities or digital commons? Do they have a public service role to play? Can we argue for a 'digital moral economy'?
However, the bigger questions about how the idea of platforms can be translated to vernacular or local contexts still remain. Some suggested we could approach this in the literal sense, by using examples of commonly understood ideas of platforms, such as railway platforms and networks, or roads and public infrastructure that serve a public function while also governing one's behaviour in many visible and invisible ways. Or platforms as anthills in the collection of tiny bytes of data from millions of users. Others looked to more ethereal or even mythological concepts such as constellations and stars to explain scale, size and interconnections between platforms, or Hydra, the Greek mythological monster, to explain the diversity of platforms and the misinformation on them, as well as the futility of many attempts to govern platforms.
While all of this will no doubt be of incredible use as we move forward with the collective work of the network, the underlying sense that there is no one answer to this question cannot go un-noted either, as that speaks to the nature of platforms themselves. In the coming months Digital Asia Hub will continue exploring these questions and more in upcoming commentaries, interviews, and two volumes of case studies titled 'Small Books on Big Platforms'.
---
Through a new program on Platform Futures, the Digital Asia Hub convenes a network of academics and experts studying multiple aspects of platforms, and to create a space for dialogue on opportunities, challenges, and governance best practices in the APAC context. To receive regular updates about the network and more join our mailing list by subscribing here and Follow us on Twitter.

Latest posts by Smitha Prasad
(see all)