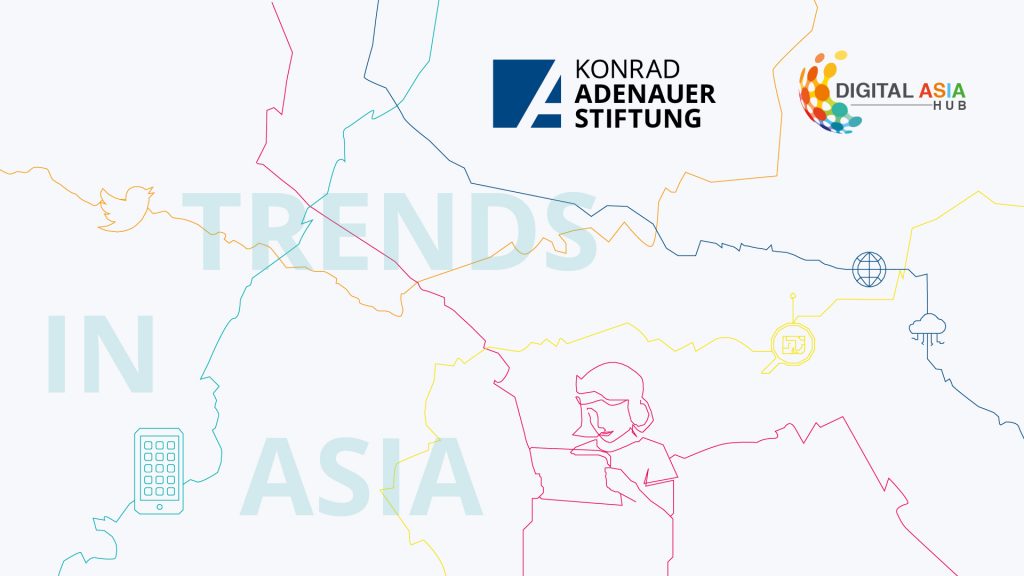 Digital Asia Hub and Konrad Adenauer Foundation announce the launch of a joint publication The Next Digital Decade: Policy Approaches from Asia – two volumes of case studies on disinformation and fake news, Govtech, AI ethics, future of work, data governance, fintech, and much more. Visit the publication's homepage to browse and read all the case studies. Following the launch the reports will also be available for download on the DAH and KAS websites.

We invite you to attend two launch events on 23 September and 30 September 2021 held on Zoom at 10:00 CET/13:30 IST/ 16:00 SGT. Both events will include a formal introduction to the volume, remarks from several authors of the case studies, and a panel discussion.
On 23 September we host a moderated discussion with:
Kathleen Reen, Senior Director, Public Policy & Philanthropy, Twitter APAC, and
Yuen-Ying Chan, journalist, educator, and the founding director of the Journalism and Media Studies Centre at The University of Hong Kong.
The speakers will discuss the contestation between platforms and governments over the scope and responsibility for regulating content on social media, finding the root to the spread of fake news and disinformation and assessing its impact on democracies and free speech, and the future trajectory of media ecosystems in Asia.
On 30 September we will host a moderated discussion 'Moving into Our Digital Futures: Policy Case Studies from Asia' with:
David Li, Executive Director of Shenzhen Open Innovation Lab (SZOIL), and
Cheryl Chung, Programme Director, Executive Education Singapore Futures at the Lee Kuan Yew School of Public Policy, National University of Singapore.
The speakers will discuss several themes touched on in the two volumes, such as the digital economy in Asia and areas where local companies are developing innovative edges, the role of public policy, and identifying learnings that can be applied in the European context.
About Digital Asia Hub
The Digital Asia Hub is an independent, non-profit Internet and society research think tank based in Hong Kong. Incubated by The Berkman Klein Center for Internet and Society at Harvard University and a diverse group of academic, civil society, and private sector partners, the Hub provides a non-partisan, open, and collaborative platform for research, knowledge sharing and capacity building related to Internet and Society issues with focus on digital Asia. The Hub also aims to strengthen effective multi-stakeholder discourse, with both local and regional activities, and will contribute to – and itself serve as a node of – a larger network of academic organizations: the Global Network of Internet & Society Centers (the "NoC").
About KAS
The Konrad-Adenauer-Stiftung (KAS) is one of the political foundations of the Federal Republic of Germany. With its international activities and projects, the KAS realizes a substantial contribution to international cooperation and understanding. Our Regional Programme in Singapore organises international conferences, training programs for members of political parties and civil society organizations as well as political dialogue between parliamentarians and politicians within Asia and between Asia and Europe. A further focus is the dialogue and exchange between policy makers and representatives of think tanks from Europe and Asia.

Latest posts by DAH Staff
(see all)