Executive Director Malavika Jayaram was a participant and speaker at the 3-day 2017 Asia Pacific Regional Internet Governance Forum (APrIGF) in Bangkok, Thailand, from 26-29 July, 2017. The theme of the Forum was "Ensuring Inclusive and Sustainable Development in Asia Pacific: A Regional Agenda for Internet Governance".
Malavika Jayaram was a speaker at the workshop 'Understanding Solutions Towards Online Harassment' and 'Unshackling Expression: A pathway to decriminalise the internet'. She was also a participant in the Newcomers Capacity Building Day, where she delivered a talk on 'Developments on Algorithmic decision-making, Big data, AI, etc.'.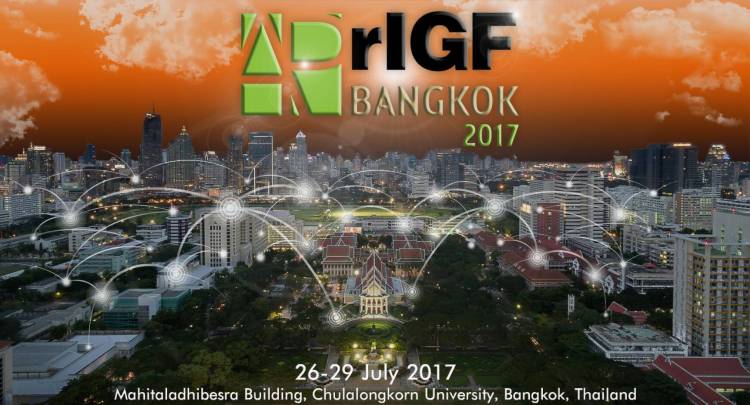 Asia Pacific Regional Internet Governance Forum (APrIGF) is one of the key regional initiatives on Internet governance. By adopting the multi-stakeholder approach as its core principle, APrIGF serves as a platform for discussion, exchange and collaboration at a regional level, and also where possible to aggregate national IGF discussions, ultimately advance the Internet governance development in the Asia Pacific region.
The APrIGF community has grown significantly since its initiation in 2010. We are now bringing together over 300 multi-stakeholders from over 20 countries across the region each year to participate in advancing the Internet governance development. The annual conference program consists of three sessions: the "the pre-event" meeting, the "core conference," and the "Youth IGF Camp.".
Internet Governance Forum (IGF) is a multistakeholder, democratic and transparent forum which facilitates discussions on public policy issues related to key elements of Internet governance. IGF provides enabling platform for discussions among all stakeholders in the Internet governance ecosystem, including all entities accredited by the World Summit on the Information Society (WSIS), as well as other institutions and individuals with proven expertise and experience in all matters related to Internet governance.
If you are interested in collaborating with Digital Asia Hub to host an event, or inviting its Executive Director as a speaker, please email Julianne Chan. 

Latest posts by DAH Staff
(see all)