Digital Asia Hub, in collaboration with the Berkman Klein Centre for Internet and Society, kicked off its Artificial Intelligence(AI) in Asia series of workshops examining AI in the Asian context on November 21.
Designed as a framing event for the region, it brought together a fantastic group of scholars, policymakers, investors, technologists and artists. We celebrated our anniversary with a reception after: with everything from a pop-up art show (featuring artists who use or critique AI and machine learning)  a panel moderated by a Pultizer Prize winning journalist.
The day long workshop was held in Hong Kong at the Shun Hing College at the University of Hong Kong(HKU) followed by the evening reception at the Maritime Museum. We also sent out a bumper special newsletter on AI in Asia: http://eepurl.com/cow6AP to mark the launch of the series and our first anniversary.
You can read a write up of the event from Digital Asia Hub's writer-in-residence Sara M. Watson, who was also a participant and gave a lightening talk at the workshop encounters with other intelligences: reflections from Digital Asia Hub's AI in Asia Conference.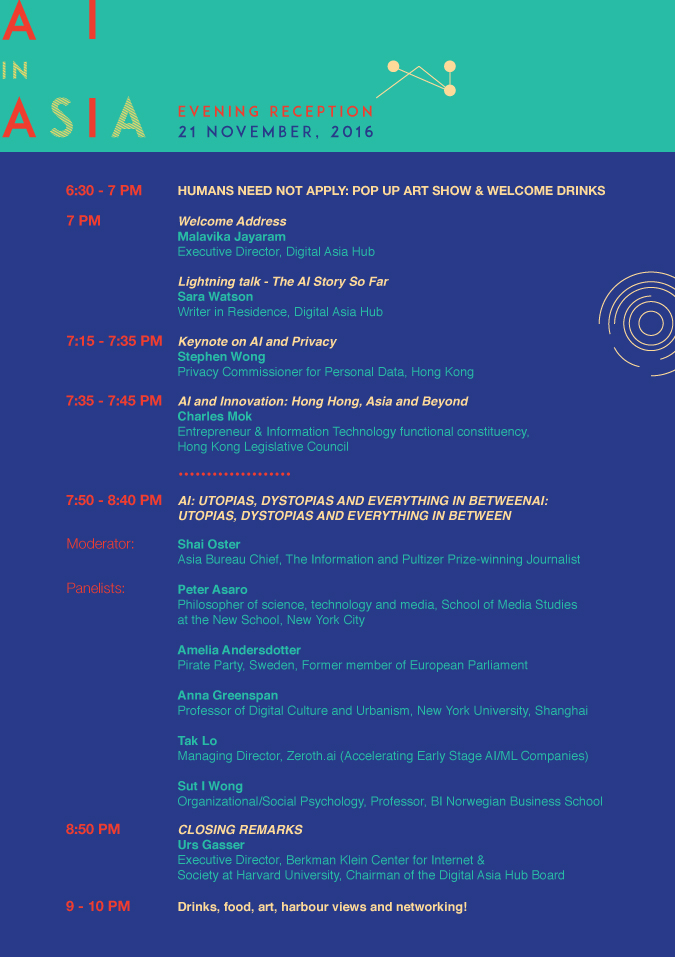 The line up of speakers and addresses at the evening reception 
The Digital Asia Hub is grateful for support for the AI in Asia Series from the Journalism and Media Studies Centre and Shun Hing College (both at the University of Hong Kong), Hong Kong Maritime Museum, Google APAC, Videotage, Dani Admiss, the Center for Internet and Society, the Supreme Court of South Korea, the Artificial Intelligence Research Institute, the Software Policy Research Institute, Korea University, OpenNetKorea, Babajob, and Zeroth.ai.
The second workshop AI in Asia: Ethics, Safety and Societal Impact  was held on December 16 in Seoul, South Korea, and the final workshop "AI in Asia: AI for Social Good" will be held at Waseda University in Tokyo on March 6-7, 2017. Digital Asia Hub will release a white paper on AI in Asia once the series of workshops are completed. 
Follow #AIinAsia on Twitter for comments, pictures and more!

Latest posts by DAH Staff
(see all)